"From the White House to the New World Trade Center to office buildings and custom homes, SUNDIAL finishes provide long-lasting color and exceptional weatherability."

— Shivie Dhillon, SunDial Powder Coatings
Let's Start A Project Together
Contact us and get a dialogue going. If you need a quote or just want to discuss a project, we are here!
Architectural Coatings
Aesthetics & Performance
Architects and designers revel in the freedom of choice, unlimited color pallet, texture variations and performance versatility of SUNDIAL powder coatings. With 33 years of powder coating experience, SUNDIAL has perfected the art form taking it to new levels. Using high-performance, resin-based coatings, like KYNAR 500 and our one-of-a-kind, 7-stage, non-chromate pre-treatment system, SUNDIAL delivers a superior powder coating process and an equally superior finished surface. One that conquers environment, weather and long-term wear all while satisfying the whim and vision of the most discerning professional designers and architects.
"Our color experts will create a detailed spec for yourarchitectural coating requirements to engineer optimal adhesion, color retention, weatherability and longevity."

— Shivie Dhillon, SunDial Powder Coatings

Performance Factors
SUNDIAL ARCHITECTURAL FORMULA
BENEFITS

Superior Gloss/Color Retention 
Excellent Weatherability
Strong Mechanical Properties
Superior Chalking Resistance
Good Edge Coverage
Smooth Flow Properties
Extended Storage Stability

APPLICATIONS

Building Interiors and Exteriors 
Lighting Poles & Fixtures
Parks and Resorts
Residential Architecture
Roofing Systems
Fencing and Enclosures
Lawn/Garden Furniture, Garage Doors
CUSTOM COLORS – A nearly unlimited range of colors with good UV stability.
SURFACE TEXTURES – Surface textures can be specified from smooth to various degrees of texture or dimpling in multiple gloss levels to suit the exact aesthetic requirements for any architectural surface or structural element.
PRE-TREATMENT – SUNDIAL's 7-stage, non-chormate, 100% DI-water, pre-treatment system offers you a wide array of pre-treatment options while delivering the industry's cleanest pre-powder coating surfaces resulting in the most ideal substrate condition for optimum coverage, adhesion and color retention.
OPTIMAL CURING – Periodic cure oven calibration with sophisticated data-pack temperature recorders provides vital statistics on metal temperatures ensuring optimally cured performance powder coatings.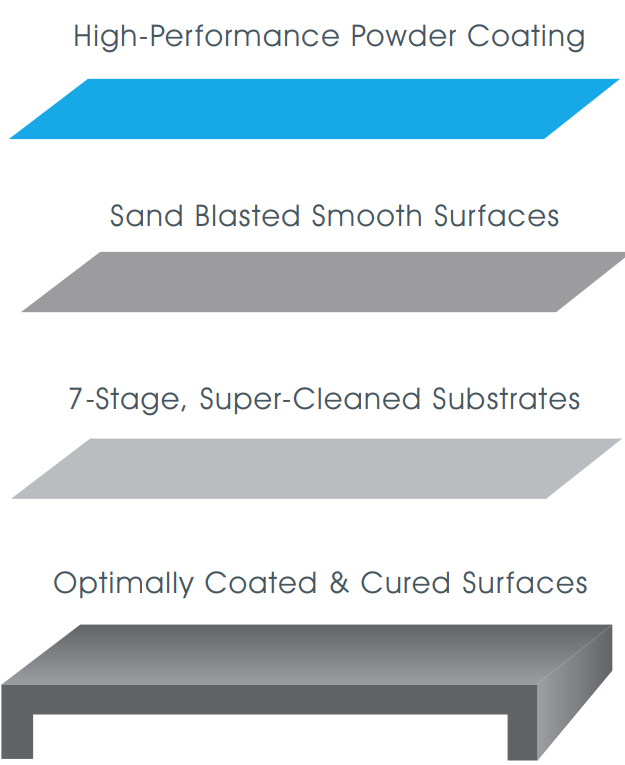 Structural Elements
COATING LARGE EXTRUSIONS
SUNDIAL's non-chromate, 7-stage, pre-treatment system delivers the needed capacity to accommodate larger product lengths typical of extruded aluminum building components. Investment in the latest technology for ultra clean substrates, efficient use of chemicals, reduced cross-contamination and integrated quality control result in the highest structural steel coatings quality technically possible. This high level of quality makes SUNDIAL powder coating ideal for many architectural uses:

Doors & windows
Frames & trim
Decorative
Fascia
Fencing
Furniture
Lawn & garden
Office equipment
Louver systems
Thermal windows
Solar collectors
Air ducts and more
Interior Elements
ANY SIZE, SHAPE OR SURFACE
SUNDIAL can powder coat any size, shape or surface of precision formed architectural metal with a durable, dull, high-gloss or textured surface that will appeal to all the senses. Our advanced, precision powder coating technology delivers the color, gloss and life-long durability high-end architectural materials demand.
High End Furnishings
FOR MODERN INTERIORS
SUNDIAL can powder coat the whole universe of unique and varied furnishing for high-end interior design. From tables and chairs to shelves, statuary, 3D art, room dividers and walls, SUNDIAL powder coatings provide the color variety, depth, texture and lasting beauty that high-end interior spaces yearn for.